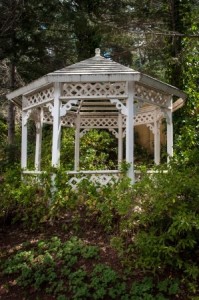 You've just finished decorating or updating the inside of your beautiful home; now it's time to take a look out back!
Many people waste their perfectly lovely outdoor living spaces, and only use them for graduation parties or planting a miniature herb garden. Well, the weather is nice: why not take advantage of this nature-filled second living room?
Here at Merle Builders, we know that there are a lot of great ways to spruce up your backyard and make it something really beautiful and impressive, something you love to show off to your guests or enjoy on your own! One of our favorite less-invasive options is a custom gazebo.
Unlike built-in patios, or complicated deck additions, a custom-built gazebo is an easy way to renovate your backyard without too much digging, prep work, and re-sodding. If you're working with a blank canvas, a gazebo, built to your custom specifications, can create a visual focal point, create natural flowerbeds, give your sun-soaked yard a much-needed shady spot to sit and relax, and become the heart of your backyard living space.
Our custom gazebos can be built to exactly your taste, in terms of style and design, size, and wood type. If you want to go for a classic feel, try a white washed gazebo with lots of lattice and detailed columns. If your style is more modern, go for a darker wood and cleaner, simpler lines that speak not only to functionality, but tasteful design.
If you'd like to order your custom gazebo, or hear our other suggestions about how to spruce up a tired old lawn, contact us today!