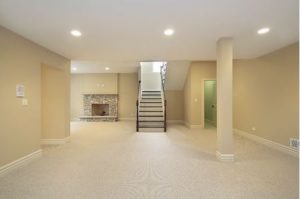 If you have an unfinished basement in your home, you could really benefit from finishing it off. It will give you and your family more space, and in some cases, it could dramatically increase the square footage of your home. You could use the extra space to add additional bedrooms to your home, set up a large play area for your kids, or even turn it into an income property that could help pay your mortgage every month. There are other benefits to having a finished basement, too. Here are just a few of them.
It will allow you to utilize the rest of your home more efficiently.
When you move your kids' play area or your husband's man cave to the basement, it will free up space in the rest of your home right away. Not only will you gain all of the extra square footage that comes along with a basement, but you will also regain all of the space in your main living quarters and get to rethink the way your entire home functions.
It will increase the value of your home.
Increasing the square footage of your home will just about always increase the value of it. In addition, when you finish off a basement, you will see a big jump in both the total square footage and the overall value of your property. Finishing off an unfinished basement is a great way to make your home more valuable, and if you ever decide to sell your home, your finished basement will be a very attractive feature to potential buyers.
It will make your home more energy efficient.
Most unfinished basements aren't insulated properly, so they allow air from outside to enter your home and wreak havoc on your HVAC system. When you finish your basement, you will obviously need to address this issue, and by insulating your basement the right way, you will reap the benefits in the form of lower energy bills and a more comfortable home.
Scott Merle Builders can help you renovate your basement and finish it off. To get started, call 315-409-4124 today to schedule a consultation.