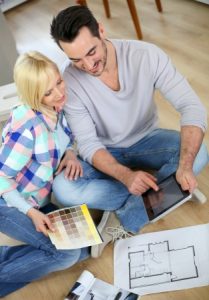 Scott Merle Builders builds homes in Central New York. The company also handles home renovations.
If you've been thinking about having some work done at your home, what are some ways to prepare for a company like Scott Merle Builders to come to your house and make your dream a reality?
Plan for Finances
First, you'll want to figure out your finances at the moment. What does your budget look like and what can you do to save and/or get more money to "get what you want?" Perhaps you might apply for a home equity loan or a home equity line of credit to help finance the home renovation(s). Other options include taking out a reverse mortgage, dealing with contractor financing, or applying for a FHA Title 1 loan. You might ask a relative, like a parent, for a loan. Or, if you want to save up money over time, commit to putting away a certain percentage of your paycheck toward the home renovation project each week or two… that way you've got a goal to work toward to, with the money all in one spot.
Iron Out the Details
Next, you'll want to figure out what you really want done at your house, down to the details. For example, say you want to have your kitchen remodeled. Ask yourself, "Yeah, but what does that mean for me?" Maybe it's something simple like, "Well, I just really want brand new granite countertops put in. They should be black and white." Or it could be more elaborate, as you make a list of wants/needs, and come up with specific details including colors and materials. Do some research online and in stores to see prices for items you're interested in, such as new lighting, cabinets, and appliances.
Is DIY a Realistic Option?
Okay, here comes the interesting part: what can you do yourself versus what should you hire someone else to do? For some people, the physicality of renovation work is too much– especially if they have bad backs. Others will tell you, "I wish I could but I am clueless about electricity, carpentry, and such– I can't even read a ruler right!" So depending on how much you can handle, some of the work can be "do-it-yourself," while other parts of the work should be done by professionals like Scott Merle Builders.
Finally, it's important to be flexible. Rather than get your mind and heart set on something, it's best to leave room for "leeway." Just like life, expect the unexpected and do your best to roll with it.